Pages
News and promotions by type
Used vehicles
Facilities
TALLERES FANDOS, S.L. is located in Teruel, Aragon, Spain. Its address is Poligono Industrial La Paz, A Street, 11-12 next to the CN-234 Sagunto Burgos Road.
The company has facilities over 20,000 square meters in size and is perfectly equipped to carry out all of the company's activities.
The facilities inaugurated in 1997 meet all the IVECO Dealer Standards and consist of:
– A 3,750 square meter main building which houses:
* A 400 square meter exhibition area.
* A 300 square meter office area.
* A 800 square meter spare parts warehouse area.
* A 2,250 square meter workshop area .
Talleres Fandos, SL has an outdoor parking area of over 10,000 square meters for trucks and customers' vehicles.
In 2000, the old facilities of PEGASO beside the current facilities were purchased thereby expanding the indoor surface area by 3,000 square meters. This area is dedicated to the exhibition and storage of agricultural machinery, and used vehicles.
The company currently has an application to the Town Hall of Teruel for the purchase of adjacent land in order to expand its current facilities.
In 2009, an outdoor exhibition area for used cars was inaugurated, comprising of a 3,000 square meter area located on CN-234 Road, 200 meters from the main facilities.
According to its strategic plan for growth, the company has also acquired a 70,000 square meter plot of land in a nearby village, with a view to implementing a logistics area in the future.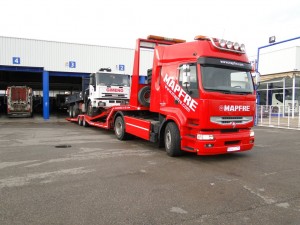 It also still maintains the old facilities within the city of Teruel, which have a 1,500 square meter building and a 5,000 square meter yard.
TALLERES AUTOBASAS, S.L. is an IVECO authorized workshop located in Alcañiz which is subsidiary of Talleres Fandos, SL. It provides aftersales service in the Bajo Aragon region.